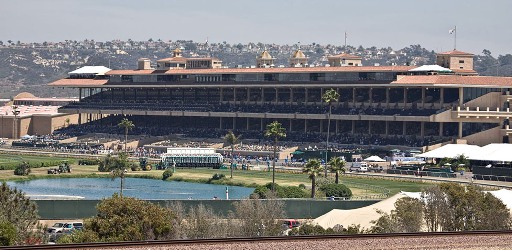 Here are some notes from the Del Mar trip to go with photos that Steve sent separately.
Some of the 25 or so Corvettes had never been out of the garage on a rainy day. But caught it a surprise squall of heavy rain just as we left Rancho Santa Fe, headed to a day of fun Sunday, July 27, at the Del Mar racetrack, these cars had to batten down the hatches, or raise their convertible roofs.
The COTV Vettes headed on to Del Mar, got hastily parked on the infield brick pavers and made for the sunshades which definitely work better for sun than rain. Thanks to Jim Estoch for a hearty supply of fresh coffee and pastries from Temecula's new Corner Bakery Café, we quickly found the dry tables under the infield canopies and set to work sharing tales of when we had last driven our Vettes in the rain.
Guests Larry Campbell and Colleen Montgomery said this was the third time their car had been driven in rain. The first being the day the car was delivered in Vancouver, Canada. They, like the cadre of COTV regulars, enjoyed socializing as the rain continued to pour down for about an hour. When the first cup of coffee was enjoyed and the Del Mar staff decided that our parking job was not up to par, many were back in their Vettes, parking them nose out to the satisfaction of the Del Mar crew. They wanted to display the cars behind the show ropes so that they could keep the public from walking next to the cars, yet be able to view the array of colors and models that made up the display. Bill Steed was one of the first to get out his polishing rag when the raindrops stopped. He said something about how hard it is to keep a white car clean.
Judy Venn got the gambling started well before the first post, with the annual favorite game of Left, Center, Right. A roll of the dice determined if you kept your dollars or passed them on to a nearby player. Busy as these ladies were, they missed the changing weather as the rain drops made way for sun breaks and eventually full sunshine which brought out a crowd of families and other race goers for the expanded lineup of races. Del Mar is offered ten races, in lieu of last year's eight, to keep horses, jockeys and owners running and working in California despite the closing of Santa Anita Racetrack. November will bring some extra racing weeks to the Del Mar schedule to further this effort.
After all this shuffling of Corvettes and spirited gambling, the pot luck containers were opened and a feast ensued. Fresh salads, dips and vegetables lead to main dishes of honey-baked ham and fried chicken, chicken salad croissants, baked beans and more.
Then on to the dessert table with apple pie, homemade cookies, cakes, brownies and lots more to satisfy a sweet tooth.
It was good to see Ed and Carolyn Keefer out and about as well as others who have been busy with other trips and activities.
There were winners, lots of betters, but a good time was had by all.