.
.
We Hit The Track and Bet The Farm!!!
Jim Brought his Pink Slip!
And now he's lookin' for a good deal on a used Vette!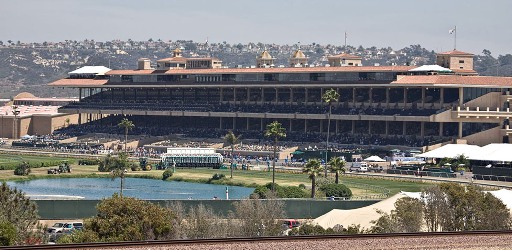 Sunday, Jul 23, 2017, Bev Reports on a Day at the Races

On a bright sunny Sunday, twenty-eight Corvettes met at Kohl's, all excited, because the big horse powered engines were going to watch the power horses run the track at Del Mar.

What a sight, traveling in a line of Corvettes as far as the eye can see. Greg Grajek and Cindy Hart joined us on the 15 at hwy 76. Living in Bonsall, they didn't feel the need to meet us at Kohl's. Good planning.

First timer, Rahul Bharadwaj, went to Kohl's in Murrieta. Nobody told him it was in Temecula! Not a problem, his 2016 Blade Silver coupe caught up in no time. Thanks for no Highway Patrol presence. Welcome to COTV, Rahul!

The Corvettes arrived at Del Mar and were led through the tunnel under the race track. As always, the engines revved high and the sounds reverberated off the walls. What fun!

Parking the cars was a treat, as always, small area for drivers and their toys. Mission finally completed.

Unloading the food from the cars was a thrill. Judy Venn set up areas for the food, nice and organized. When Judy announced APPETIZERS and showed us where they were, a line formed. You know how we are, no attention to appetizers. Plates were loaded with food and by 11:15 we had eaten everything. Breakfast, lunch and dinner! We were hungry! The rest of the day was spent eating SWEETS…

The races were taken seriously, as many members pored over racing forms, odds maker forms, etc. Mostly, it was Greek to everyone.

The big winner, as I can figure, is Simon Bleeker. He won $230 on the 1st race with a $4.00 bet! Wow! How much of that he took home is anybody's guess. Later, he bet $2.00 on every horse in one of the races. That could be 10 to 13 horses. He netted $3.00 on that race, good pay out!

In the RLC, (Right, Left, Center) game that was played before the races, Marilyn Watson won $30.00. Good show, Marilyn, that was a good payday!

Everyone had a great time! Good company, food and weather had been served all day!

Another successful day for COTV. THANKS TO JIM and DIANE SOMMARS and JUDY VENN FOR ARRANGING AND ORGANIZING THE OUTING. 
.